The award-winning bendable targeted G-Spot vibrator that fits in your palm.
Precise G-spot stimulation

- Bend to deliver vibrations exactly where you need
Fits in your palm -

Discreet & compact

for pleasure anytime, anywhere

Effortlessly accessible

- Reach your hot spots for the orgasm you most desire
Designed to mimic our fingers - bend it to

fit your body, whatever your size

Feel vibrations at every inch

from the 2 anatomically placed motors
Give your partner live control of your pleasure with the

very smart App
Truly customizable –

8 preset vibes, 16 intensities

& a very smart app
Meticulously handmade with love for

ultimate premium

& robust quality
100% secure Shopify payment.

Discreet, free & fast shipping

.
It made me squirt each and every time I used it

Make your body feel beautiful with this super adaptable vibrator

Poco is one of our absolute favorite toys!

Poco is a robotic finger that makes you climax way faster than your hands

The best vibrator for couples

The Best New Gadget for Women

This Smart Vibrator Is the Rolls-Royce of Sex Toys

Overwhelmingly good! The pleasure was otherworldly. My favorite to use & recommend

Rated 99/100 - This Best-Selling Vibrator Is the Netflix of Sex Toys

Shaking up the way we have sex and our fundamental ideas about relationship

Impressive addition to the bedroom that transform routine sex into an intense experience

MysteryVibe is the company using the latest technology to create adaptive vibrators

MysteryVibe is smashing myths and embracing scientific advances in sexual wellness

The only vibrator that adapts to you and be shaped the way you like
UNLOCK G-SPOT ORGASMS
Poco is the world's only bendable G-spot vibrator. Designed to mimic your fingers, Poco can reach, stimulate and hit all the right spots as you explore and discover new sensations. Bend Poco to target the vibrations wherever you want, or hit the G-spot over & over to orgasm like never before.
POCKET PLEASURE WITH SMALL & MIGHTY DESIGN
Compact, smart, discreet - Poco is the first G-spot vibrator that fits in your palm. Never let them see you coming with all those good vibrations pinpointing your sweet spots for the orgasm you most desire. With Poco, you have a vibrator that fits in your purse & your life for pleasure anytime, anywhere.
FEEL PLEASURE IN EVERY INCH
Discover why sexperts rave about their orgasms with Poco. Based on Crescendo's award winning technology, this compact vibrator is packed with 2 mind-blowing motors & 16 power settings to stimulate your every inch. Experience eye-rolling moans & orgasmic bliss that dreams are made of.
TAKE COUPLE PLAY TO THE NEXT LEVEL
This programmable vibrator lets your partner live control the intensity & vibration of each individual motor, with the very smart app. Fulfil every desire as you explore your bodies through edging & explosive orgasms by giving your partner control of your pleasure.
GET WET. GET WILD. IT'S SHOWERPROOF
Explore your decadent desires, lubed up and in the shower. Play solo, together or however you want, wherever you want.
EXPERIENCE EXPLOSIVE PLEASURE
What experts say
Trusted by 100,000 users worldwide. Lives changed. Intimacy improved.
I had never used a vibrator before, but this thing is amazing!!!! It is really easy to control, really easy to charge and it feels great when holding it. What I like most about is the bendable feature. It just makes the experience so much more fun.
Jess, Manchester
What a wonderful company. Not only are their products great, their customer service goes above and beyond.
Wendy, London
Amazing, forward-thinking tech that puts pleasure and communication first. Really impressed to see how technology can improve rather than replace intimacy. Just so much fun to use.
Henry, Boston
I was reading the reviews and I didn't believe it when people were saying stuff like, "Omg this fixed my sex life". So I got it and it definitely did rekindle our sex life after being married for over 30 years!
Destine, USA
A sextoy like no other. This is not a nasty cheap bring pink pseudo willy - its a piece of art that can deliver a great deal of fun and pleasure.
Ben, Berlin
Beautifully designed, its the Rolls Royce of vibrators.
Henry, Amsterdam
Packaging to die for and vibrations to send you heaven and back. Fun for both Mr and Mrs (and more!). Love it!
Oleg, Vienna
Thank you for a creating a wonderful vibrator. It made my girlfriend scream in pleasure louder than I have heard. It was beautiful experience.
Dan, San Francisco
Simply the best tool to rebuild love. High-quality product that delivers on its promises!
Armado, New York
I've been using this wonderful toy with my gf and it's awesome. It's the best toy we've ever had. The vibrations are super and the build quality is great. Really top notch! I recommend to anyone and all couples.
Forester, Los Angeles
Overall, this is the best vibrator I have used for years and I am looking forward to exploring it further. This sex toy delivered the most intense orgasm I have had with a sex toy. It was incredible and to be honest, it took me completely by surprise. I wasn't expecting results like this.
Mel, UK
There are so many times when we wish we had a discreet, compact, powerful vibrator tucked away in the bedside drawer to play with, forget about the world and reach new levels of euphoria. That's exactly what I got from the poco vibrator! The best pocket vibrator in the market by far!
Claudia, USA
With this toy, you are really only limited by your own imagination. The low settings mean you can use it for hours without the irritation of overstimulation, and the gradually building intensities make it fabulous to bring your orgasm home. It really will heighten your uniquely personal pleasure exploration!
Kate, USA
You will not be disappointed! Using Poco is like having an ultra-thick, dual motor-controlled finger pleasure you, that unlike most human fingers, won't get tired. It's pretty perfect.
Laura, US
REVOLUTIONARY AWARD-WINNING DESIGN
HUMAN FINGERS MIMIC
Designed to mimic fingers just bend it to put the vibration exactly where you need it.
EASILY ADJUSTED
Poco can be easily adjusted to provide clitoral, G-spot & perineum stimulation.
2 MOTORS
Experience consistently powerful sensations with 2 vibrating motors along Poco.
APP CONTROL
Controled with an app. Choose from preset programs, or create your own to suit your needs.
What makes Poco unique?
Poco brings the best of health, pleasure and technology together to be a device that is equally effective & desirable.
Customization
Adaptable shape & Vibrations
Price point
Accessible Premium Product
Versatility
Solo, women, men & couples
Showerproof
Accessible for treatment in water
MAKE IT YOURS.
MEET YOUR DESIRES.
UNBOX POCO
Take Poco out of the box and download the app.
BEND IT
Using your hands, bend Poco into a shape that can reach the area you want to stimulate.
TURN IT ON
Turn on Poco and circle through the various pre-set vibrations to find the one you like most.
SET THE INTENSITY
Set the intensity that you find most comfortable.
TRY IT
Insert Poco to try it. Try out different shapes till you find the one that works best for you.
USE THE APP
Use the app to set the intensity and vibrations you need.
Poco Features & Dimensions
Poco is packed with state-of-the-art innovation to the brim. Showerproof, seamless wireless charging,
long battery runtime from a quick full charge & much more.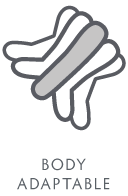 Benefits of Poco
If you're considering using vibration to address sexual health issues, consider these key benefits of Poco
Benefits of Poco
If you're considering using vibration to address sexual health issues, consider these key benefits of Poco
How does Poco work in a variety of situations?
Poco is the often the preferred non-medicinal solution for a wide range of sexual health issues.
Overall Sexual Wellness
There are numerous health benefits of regular orgasms including better sleep, lower stress, reduced heart diseases, less headaches & improved skin. Using Poco can help make orgasms a highly enjoyable part of your regular schedule.
PELVIC HEALTH
Pelvic health problems including urinary & bowel incontinence are common for many women. Regular use of a directional vibrator like Poco can help strengthen this area, improve function, and make sex easier and more comfortable, especially for postpartum women with weakened pelvic floor contraction.
Pain Disorder
Vibratory stimulation is a commonly recommended treatment for vulvodynia, dyspareunia and other vulval pain conditions.
Orgasmic Disorder
For women experiencing trouble with arousal or orgasm, using Poco on the genitals can help improve vaginal lubrication, genital sensation and sexually related stress.
Urinary Incontinence
Urinary incontinence is common in women, especially for those over the age of 40. Crecendo can be used both vaginally and on the perenium to strengthen the pelvic floor muscle and reduce urine leakage.
Premature Ejaculation
Premature ejaculation affects a third of the male population worldwide. Regular use of Poco through start-stop exercises can reduce premature ejaculation symptoms.
Erectile Dysfunction
Vibration stimulation to the penis and pelvic floor can improve erectile dysfunction. Use Poco both before and during intercourse for stronger, longer-lasting erections.
What's in the box?
Beautiful silky smooth Poco made from body-safe silicone
Charging USB cable
Quick Start Guide
Multi-lingual User Guide
Ready to get started with Poco?
Let's open that box and get started!
Charge Poco
It charges via USB and fast. Plug in the micro USB into the back of Poco. Connect the other end of the USB wire to any USB power & within 1 hour it will be fully charged up and ready to use.
Set the settings as you like
Easily change the vibration pattern or intensity on Poco with the press of a button. Experiment to see what works best for you.
Download the app
Download the free MysteryVibe App to try out different vibration patterns from our pre-made list or make a new one from scratch yourself. Simply open the app and follow the instructions to pair & control your Poco. Note: Poco works perfectly stand-alone without the app. We recommend the app as it allows you to fully customize the vibrations giving you more comfort & pleasure, as well as being a remote control for Poco within a 30 feet range.
Use Lube
Many of us need time to get aroused, and more so to start producing natural lubrication. By applying a lubricant to yourself or Poco, you can have more pleasure & comfort from the get-go. A good lubricant is also helpful when you're using Poco outside your body and on its own when you just want to enhance your pleasure.
Clean It
Clean it when you're done. Poco is showerproof
making it very easy to clean with a toy cleaner or soap
& water.
HAVE MIND-BLOWING ORGASMS. DELIVERED.
SHOWERPROOF
Water resistant for fun in the shower, unbridled lube play and effortless cleaning.
Smart App
Find your frequency and intensity with pre-programed patterns or customize your experience through the app.
USB CHARGING
USB charging so Poco is set for hours of playtime. Recharge, ready to go.
Discreet
Shipping
Nobody's business but yours. We take
privacy very seriously with discreet
packaging and premium shipping.
24-MONTH WARRANTY
Quality is Queen. All products are meticulously made with love and include authentic manufacturer's warranty.
100% SECURE PAYMENT
Security is serious business. That's why we secure our entire site with SSL and use PCI DSS compliant Shopify for all transactions.
Yes, Poco is a really great toy for use during sex. It can be used both externally or internally during sex. You can check out the Play page for more ideas on how to introduce Poco into your sex life.

POCO is unique in a number of ways AND the most exciting being that it can be many toys in one! Because of its bendable design, you can flex Poco into any shape that works for you or your partner. That could be a curved shape to stimulate the G-spot or a C-shape to stimulate both the clitoris and G-spot at the same. Poco is designed to be gender-neutral so people from all orientations can enjoy it.

Poco has two motors along the length of its shaft, so there are multiple stimulation points throughout. Both the motors can be programmed individually and controlled using the app so you can create a vibe that is completely tailored to you. For more ideas on how to use Poco, check out our Play page.

Our relationship with sexuality starts with our fingers. They are our very first 'sex toy'. Our fingers help us discover and stimulate our erogenous zones. That is what we designed Poco to emulate - create the ultimate finger that can be bent to reach, discover and arouse the deepest parts of our bodies, we didn't know existed and achieve new heights of pleasure.

We designed Poco to be the best first-time vibrator. We think it is the perfect toy for anyone looking to explore, discover and stimulate their and their partner's body in new ways. Poco also makes a great vibrator gift for your partner or friend.